My projects page
Digital alarm clock using DS3231. Keep accurate time using a real time clock chip (RTC)
Lithium-Ion Lithium-Polymer battery charger using MCP73831
Charge your Lithium-Ion Lithium-Polymer batteries using this charger built around MCP73831
Rfid access zone using PIC microcontroller. Give or deny access to zones using Rfid technology.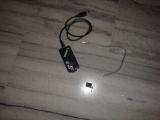 Fast ICSP connection board - F-ICSPcon
My PICKIT3 (clone) with the F-ICSPcon.
A very simple GSM CALLER ALARM.Combining a pic microcontroller with a quad cmos bilateral switch
makes it a perfect solution for our circuit...
Modding Yamaha CryptonR - "The Crypton Project"
Modding Yamaha Crypton R. A very instresting project that icludes the replacing of all Incandescent light bulbs
to leds,a motorcycle alarm, and a power outlet for providing 12v supply.
Bench power supply from pc's power supply
With small modifications you can turn a pc's power supply to bench power supply.